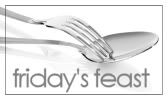 Appetizer
Have you ever played a practical joke on anyone? If so, what did you do and who was your victim?

I don't think I have...'coz I don't like if someone does it to me
Soup
What do your salt and pepper shakers look like?
no shaker...
Salad
Where is the next place you plan to visit (on vacation or business)?
Padang, West Sumatra. My uncle lives there and my hubby an daughter haven't been there.
Main Course
What kind of lotion or cream do you use to keep your hands from getting too dry?
Vanilla from Body Shop, my fave!

Dessert
Make up a dessert, tell us its ingredients, and give it a name.
Chocolate Island, ingredients: chocolate chips (as much as you wish), 5 scoops of chocolate ice cream, chocolate sauce, brownies
Labels: friday's feast