It's the drawer located in my desk at the office.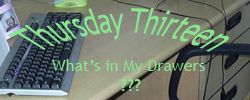 Vanilla Lotion

- I just love the smell of vanilla. I got it from Body Shop.

Earphone

- If I don't use it tolisten to my fave music, it lays nicely in the drawer.

Magazines

- Sometimes I use them for fun, some other time for getting sources for my writings.

CDs

- Any CDs, musics, the ones containing pics.

Diskettes

- for light data.


Papers

- yup...simply papers, only they're with notes.

Administrative Papers

- yes, they're parts of my job.

Tissues

- gotta keep some in there just in case I get flu.

Coffee

- Yeahhhh...I need it at around 4!

Creamer

- I drink coffee with creamer, it tastes better

Spoons and forks

- just be ready in case some friends bring food! ;D

Lip balm

- sometimes my lips are getting dry, I always keep one at the office

An account book from my bank

- this is supposed to be a secret!
:D I just love
TT

!